INSNA Web Site. Due to technical and bureaucratic difficulties with the old server, the INSNA website has been moved to Carnegie Mellon. Find it at:

http://www.heinz.cmu.edu/project/INSNA/

On that site, you will also find a link to the current, online, issue of CONNECTIONS. Please send me feedback on the format!
John and Katie step down. This was John Skvoretz' and Katie Faust's last issue as editors of CONNECTIONS, having completed their 3-year term. I think they and their graduate assistant, Claire Youngblood, did a terrific job. I doubt if many people realize just how painful it is to compile and edit a hundred pages of well-chosen abstracts, announcements and articles.

The new editor is my colleague at BC, Candy Jones (jonescq@bc.edu). However, there is a plan, not yet approved by the INSNA board, to switch roles, so that Candy, who is ultra-organized, would handle subscriptions, while I would handle the editorship.

This was also Wojciech "Al" Stachura's last year as staff assistant handling subscriptions. He did a great job dealing with Elsevier (publisher of Social Networks) when they went through a chaotic period, resulting in many lost issues.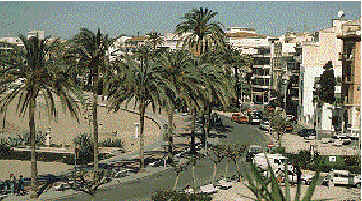 Sitges
1998 Conference. The '98 International Social Network conference will be held in Sitges (near Barcelona, Spain). The dates are Thursday, May 28 to Sunday, May 31, with some workshops on Wednesday, May 27. The meetings are jointly organized by:
1999 Conference. The '99 conference will return to Charleston, South Carolina at the Hawthorn Suites Hotel. The dates are Feb. 17-21. Contact John Skvoretz (skvoretz-john@sc.edu) for information.

2000 Conference.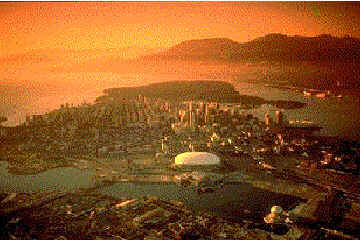 Vancouver (aerial view)
The new century will be ushered in by a new site: the '00 conference will be held in Vancouver, BC, hosted by Bill Richards. For information contact Bill at: (604) 251-3272 or 291-4119, or richards@sfu.ca).
Coordinator-Elect. When my 3-year term was up at the end of last year, no-one was nominated to replace me. Since I was happy to serve one more term, this did not pose a problem. However, we also failed to nominate a coordinator-elect, as required by the bylaws. Therefore, I am calling once again for nominations. Please email me (steve_borgatti@msn.com) your nomination. Thanks.

Steve Borgatti
INSNA Coordinator