UCINET
for Windows
Software for
Social Network Analysis
Borgatti, Everett, and Freeman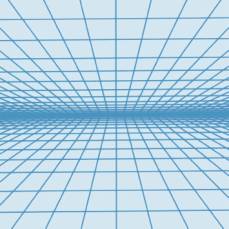 (c) 2002
Analytic Technologies, Inc.
To download current version: Click here.
UCINET for Windows combines all the capabilities of UCINET IV with a Windows interface and many new features -- and it runs faster!
New features
· Measures of structural holes and other ego network attributes (Burt, 1992)
· Ability to construct bipartite graphs from 2-mode data
·
F
actor analysis of 2-mode data
· Fitting of core/periphery models
·

Permutation-based statistical proc­ed­ures for testing a wide range of hypo­theses involving network data
· Ability to import and export Excel files
· Graphical scatter­plots and dendro­grams
· Ability to handle large datasets, limited only by the amt. of memory available
· Numerous minor improvements, such as additional input data formats, multi­ple output windows, and more power­ful spreadsheet
· Faster execution -- up to twice as fast, thanks to 32-bit processing
General description
UCINET is a comprehensive program for the analysis of social networks and other proximity data. The program con­tains dozens of network analytic routines
(e.g., centrality measures, dyadic cohesion measures, positional analysis algorithms, clique finders, etc.), stochastic dyad models (P1), network hypothesis testing procedures (including QAP matrix correlation/regression and categorical and continuous attribute autocorrelation tests), plus general statistical and multi­variate analysis tools such as multi­dimensional scaling, correspondence analysis, factor analysis, cluster analysis, multiple regression, etc. In addition, UCINET provides a host of data management and transformation tools ranging from graph-theoretic procedures to a full-featured matrix algebra language.
The program is distributed on CD-ROM (or diskette, if requested) which also contains a User's Guide to supplement the online help. UCINET for Windows runs on Windows 95/98/NT/2000/XP platforms with a minimum of 8mb of RAM.
An example of output from one of the MDS routines is shown here: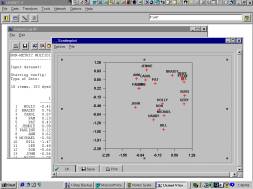 To download free evaluation version
click here!